The first Bosnian rifle – AC-Unity Alfa AC-SMG9 9x19mm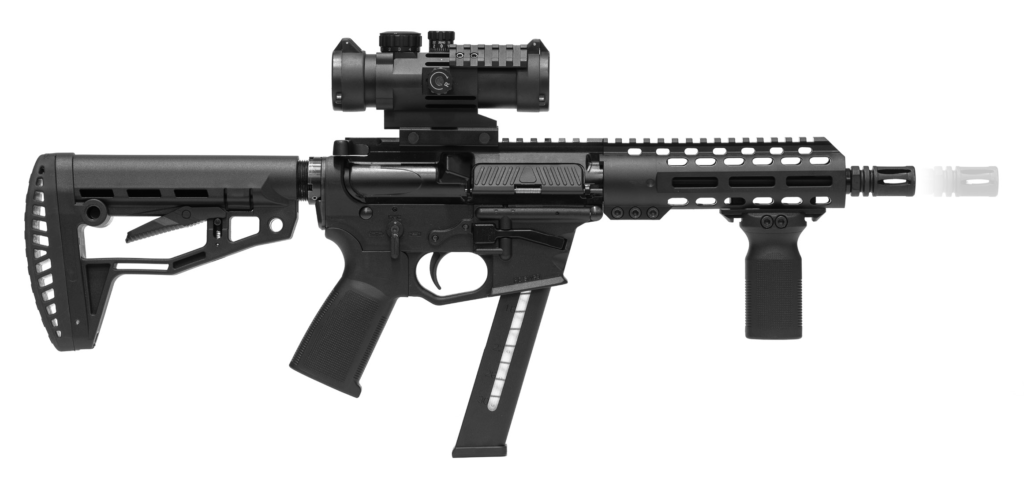 The first Bosnian rifle Alfa AC-SMG9 has been designed to especially fit law enforcement requirements, allowing easy handling through the compact conception. The small size and weight result in a smooth handling in vehicles and buildings while also granting long-range capabilities by using the extractable stock.
ALFA AC-SMG9 KEY FEATURES:
Blow Back System
The simple and reliable blow back system not only makes the cleaning and maintenance easier for the users in the field but also reduces the felt recoil, especially when fired in the full-automatic mode.
Upper Receiver
The upper receiver is made from 7075 aluminum alloy with a hard anodized surface, making it highly resistant and durable.

Barrel
Barrel length is available in two dimensions 7,5'' and 10,5''.
Handguards
The handguards are provided in aluminum or highly resistance polymer and can be changed easily with a quick attachment mechanism. Following latest trends and reports a M-look system has been used to allow for individual mounting of any kind of additional rails in different positions and at the same time provide a more comfortable handling and lower total weight, even in the metal version of the handguard.

Lower Receiver
The lower receiver is made of lightweight aluminum or high-resistance polymer, reducing the total weight of the gun and absorbing the recoil of the system. The magazine well accepts 9mm magazines of different capacities and provides finger groves in the front. Any standard AR-15 grip can be chosen and mounted by the user.

Fire Selector
In order to provide maximum comfort and safety an ambidextrous fire selector has been designed with easily recognizable icons allowing to see and feel the modes even in low-light conditions.

Buttstock
The retractable polymer buttstock provides various points to attach quick-detachable swivel slings and can be extended to 5 different
lengths positions. In addition each buttstock comes with 3 different rubber back-plates, allowing easier handling in different positions and for different operation purposes.


Application
The Alfa AC-SMG9 has been specially developed for the special forces of Bosnia, requesting a reliable product for professional users. The overall design is based on the idea to provide a one-fits-all solution for various users and purposes within different forces and the result is a multi-purpose weapon for modern urban requirements.

The Alfa AC-SMG9 is fully compatible with weapons of the M16 and M4 family, providing a simple and reliable blow-back system in the caliber in 9×19, allowing for easy cleaning and maintenance and reliable functioning. The Alfa AC-SMG9 is produced with highest technical standards, taking into consideration the real needs of modern police and military forces. Together with the used materials and surfaces technology guarantee simple maintenance and functionality and performance in all environments and conditions.

Specifications
| | |
| --- | --- |
| Description | Alfa AC-SMG9 |
| System | Blow back |
| Caliber | 9×19 mm NATO |
| Twist rate | 250 mm |
| Barrel length | 7,5'' / 10,5'' |
| Barrel coating | Gas nitride hardening and corrosion coating |
| Overall length | 700 mm |
| Length – stock retracted | 610 mm / 675 mm |
| Weight without magazine | 2300 g |
| Upper Receiver | Forged aluminum alloy 7075-T6 |
| Lower Receiver | Polymer lower receiver / Alloy |
| Mode of Operation | Safe / Semi / Automatic |
| Fire Selector | Ambidextrous |
| Magazine Release Lever | Right side |
| Cyclic Rate of Fire | 700 – 800 RPM |
| Muzzle Velocity | 380 – 396 m/s |
| Magazines | 15, 17, 30 Rounds |